The market report
Reports on the past week's wool sales held in Port Elizabeth, South Africa:
Port Elizabeth – The wool market traded slightly lower higher at this weeks' auction and the Cape Wools Merino Indicator decreased by 0.8% and by 131 points to close at a value of R163,00 (Clean).
Read more
Cape Wools Merino Indicator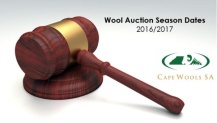 SA Non-Mulesed Certificate Initiative
To ensure the integrity of South Africa's non-mulesed declaration Cape Wools has developed further refinements to its non-mulesed certificate. This will increase the reliance placed on this document as there is now further proof of its authenticity on each document.
Read More
STATISTICS AND REPORTS
Market Reports
Reports on the weekly wool sales held in Port Elizabeth, South Africa.
Monthly Overview
This report highlights monthly changes in the South African wool Industry.
The Story of Wool

South Africa is a vast and beautiful country with a rich history of sheep and wool farming. This long history has established woolgrowers who have a keen appreciation of how to care for their animals and the environment. As a result, the industry consistently generates a high quality, environmentally sound product for international markets.
The first Merino sheep arrived at the Cape in 1789, and the sheep and wool industry on a commercial basis was soon established. During the whole of its colonial period, the Cape province remained the most important wool producing area in Southern Africa and although the sheep industry subsequently spread rapidly throughout virtually the whole of the country, 'Cape Wool' has become the international generic trade term for all wool produced on the sub-continent.
Tel: +27 (0)41 4844301
Item

Sale

2016/2017

2015/2016

SA

EMI

SA

EMI

First Sale

1

14681

1295

12922

1300

This Sale

27

16300

1551

15768

1225

Prev Sale

26

16431

1536

15199

1237

Low

14363

1283

12163

1179

High

16431

1551

16306

1300

Ave

15447

1375

13 995

1 246
Micron

Sale

This Week (USc)

Previous Week (USc)

SA

AU

SA

AU

18

27

1679

1783

1588

1648

18.5

27

1616

1685

1543

1518

19

27

1493

1516

1431

1451

19.5

27

1351

1331

1311

1317

20

27

1231

1291

1217

1183

20.5

27

1164

1115

1146

1136

21

27

1165

1122

1128

1113

21.5

27

1087

1122

1098

1099

22

27

1079

1086

1084

0982
EXCHANGE RATES
| | | | | |
| --- | --- | --- | --- | --- |
| Item | Sale | R/USD | R/Euro | R/AUD |
| 2016/2017 | | | | |
| First Sale | 1 | 13.42 | 15.12 | 10.27 |
| This Sale | 27 | 12.65 | 13.65 | 9.69 |
| Prev Sale | 26 | 13.07 | 13.88 | 9.92 |
| 2015/2016 | | | | |
| First Sale | 1 | 12.80 | 14.23 | 9.35 |
| This Sale | 27 | 15.43 | 16.92 | 11.20 |
| Prev Sale | 26 | 15.67 | 17.03 | 11.28 |
HIGHEST PRICES
| | | | | | |
| --- | --- | --- | --- | --- | --- |
| Sale | Broker | Producer | Type | Micron | Price |
| 27 | BKB | LOUWSRUST BOERDERY | ML270 | 17.1 | 16640 |
| 24 | BKB | COTTERRELL ENTERPRISES | ML170 | 16.7 | 16400 |
| 27 | BKB | LOUWSRUST BOERDERY | ML270 | 17.6 | 16390 |
| 18 | BKB | JH KLINGENBERG | MF250 | 16.8 | 16140 |
Share