The market report
Reports on the past week's wool sales held in Port Elizabeth, South Africa:
Port Elizabeth–The wool market traded 1,5% higher this week and the Cape Wools Merino Indicator increased by 222 points to close at a value of R155,40 (Clean).On the Australian market, the EMI increased 2,8%.The Cape Wools All Wool Indicator gained 1,5%.The finer end of the market performed particularly well today with significant gains recorded.The auction was sizeable as a result of producers delivering their wool to market before the December recess.Buyers commented that the market was firm and the keen demand experienced throughout the season thus far has maintained its momentum.The competition between buyers was fierce especially so on the highly contested longer and better quality wool lots.This week saw the Rand at R13,95 to the US dollar.The Rand strengthened by 1,1% against the US Dollar compared with the average rate at the previous sale.The Rand gained 0,9% against the Euro, trading at R14,84.The offering comprised of 13 005 bales of which 98% was sold.
Read more
Cape Wools Merino Indicator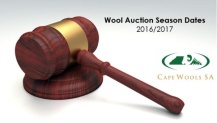 June 01, 2016
SA Non-Mulesed Certificate Initiative
To ensure the integrity of South Africa's non-mulesed declaration Cape Wools has developed further refinements to its non-mulesed certificate. This will increase the reliance placed on this document as there is now further proof of its authenticity on each document.
Read More
STATISTICS AND REPORTS
Market Reports
Reports on the weekly wool sales held in Port Elizabeth, South Africa.
Monthly Overview
This report highlights monthly changes in the South African wool Industry.
The Story of Wool

South Africa is a vast and beautiful country with a rich history of sheep and wool farming. This long history has established woolgrowers who have a keen appreciation of how to care for their animals and the environment. As a result, the industry consistently generates a high quality, environmentally sound product for international markets.
The first Merino sheep arrived at the Cape in 1789, and the sheep and wool industry on a commercial basis was soon established. During the whole of its colonial period, the Cape province remained the most important wool producing area in Southern Africa and although the sheep industry subsequently spread rapidly throughout virtually the whole of the country, 'Cape Wool' has become the international generic trade term for all wool produced on the sub-continent.
Tel: +27 (0)41 4844301
Item

Sale

2016/2017

2015/2016

SA

EMI

SA

EMI

First Sale

1

14681

1295

11163

1295

This Sale

15

15540

1378

10920

1244

Prev Sale

14

15318

1341

10948

1252

Low

14363

1283

12163

1179

High

15606

1378

16306

1300

Ave

15104

1313

12 816

1 236
Micron

Sale

This Week (USc)

Previous Week (USc)

SA

AU

SA

AU

18

15

1270

1314

1214

1233

18.5

15

1206

1285

1153

1224

19

15

1208

1243

1159

1203

19.5

15

1149

1191

1125

1153

20

15

1103

1134

1103

1111

20.5

15

1071

1102

1044

1079

21

15

1051

1098

1036

1049

21.5

15

1032

1116

1006

0922

22

15

1033

1031

1014

1036
EXCHANGE RATES
Micron

Sale

This Week (USc)

Previous Week (USc)

SA

AU

SA

AU

18

15

1270

1314

1214

1233

18.5

15

1206

1285

1153

1224

19

15

1208

1243

1159

1203

19.5

15

1149

1191

1125

1153

20

15

1103

1134

1103

1111

20.5

15

1071

1102

1044

1079

21

15

1051

1098

1036

1049

21.5

15

1032

1116

1006

0922

22

15

1033

1031

1014

1036
HIGHEST PRICES
| | | | | | |
| --- | --- | --- | --- | --- | --- |
| Sale | Broker | Producer | Type | Micron | Price |
| 15 | BKB | BG COTTERREL | MF170 | 17.2 | 14200 |
| 15 | BKB | BG COTTERREL | MF180 | 17.9 | 14190 |
| 15 | BKB | EA ROODT | MF160 | 17.6 | 14100 |
| 13 | BKB | KAROO-LELIE LANDGOED BK | ML160 | 17.4 | 14000 |
Share