The market report
Reports on the past week's wool sales held in Port Elizabeth, South Africa:
Port Elizabeth–The wool market traded 6,5% higher this week and the Cape Wools Merino Indicator increased by 996 points to close at a value of R163,06 (Clean).On the Australian market,the EMI increased 2,3%.The Cape Wools All Wool Indicator gained 6,5%.At this week's auction there was good quality woolon offer, with the majority of wool again between 40-55mm in length.Buyers commented that there was extreme competition for the longer and better quality wools.There are two auctions left for this season.This week saw the rand at R15,77 to the US dollar.The rand weakened by 6,9% against the US dollar compared with the average rate at the previous sale.The Rand weakened 4,8% against the Euro,trading at R17,77.
Read more
Cape Wools Merino Indicator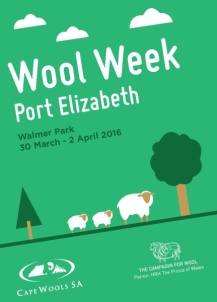 March 14, 2016
Wool Week Port Elizabeth 2016
Cape Wools SA will be celebrating wool and the unique uses of wool through an exhibition in Walmer Park Shopping Centre and through various activities at the Wool Hub
Read More
November 18, 2015
SA Non-Mulesed Certificate Initiative
To ensure the integrity of South Africa's non-mulesed declaration Cape Wools has developed further refinements to its non-mulesed certificate. This will increase the reliance placed on this document as there is now further proof of its authenticity on each document.
Read More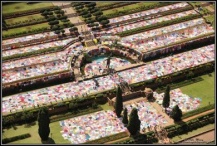 STATISTICS AND REPORTS
Market Reports
Reports on the weekly wool sales held in Port Elizabeth, South Africa.
Monthly Overview
This report highlights monthly changes in the South African wool Industry.
The Story of Wool
South Africa is a vast and beautiful country with a rich history of sheep and wool farming. This long history has established woolgrowers who have a keen appreciation of how to care for their animals and the environment. As a result, the industry consistently generates a high quality, environmentally sound product for international markets.
The first Merino sheep arrived at the Cape in 1789, and the sheep and wool industry on a commercial basis was soon established. During the whole of its colonial period, the Cape province remained the most important wool producing area in Southern Africa and although the sheep industry subsequently spread rapidly throughout virtually the whole of the country, 'Cape Wool' has become the international generic trade term for all wool produced on the sub-continent.
Tel: +27 (0)41 4844301
Item

Sale

2015/2016

2014/2015

SA

EMI

SA

EMI

First Sale

1

12922

1300

11163

1001

This Sale

32

16306

1289

14000

1340

Prev Sale

31

15310

1260

13377

1276

Low

12163

1179

11163

1001

High

16306

1300

11700

1367

Ave

14183

1250

11 450

1 058
Micron

Sale

This Week (USc)

Previous Week (USc)

SA

AU

SA

AU

18

32

1123

1117

1107

1131

18.5

32

1102

1113

1145

1121

19

32

1092

1158

1086

1092

19.5

32

1001

1057

1041

1089

20

32

0994

1040

1024

1008

20.5

32

0989

1064

1021

0994

21

32

0967

1022

1003

0996

21.5

32

0994

1040

0998

1008

22

32

0980

0979

0992

0953
EXCHANGE RATES
| | | | | |
| --- | --- | --- | --- | --- |
| Item | Sale | R/USD | R/Euro | R/AUD |
| 2015/2016 | | | | |
| First Sale | 1 | 12.7958 | 14.2316 | 9.3520 |
| This Sale | 32 | 15.7702 | 17.7732 | 11.4691 |
| Prev Sale | 31 | 14.7561 | 16.9554 | 11.0443 |
| 2014/2015 | | | | |
| First Sale | 1 | 10.6626 | 14.0553 | 9.969 |
| This Sale | 32 | 12.0708 | 13.1398 | 9.6006 |
| Prev Sale | 31 | 11.9416 | 13.45715 | 9.4695 |
HIGHEST PRICES
| | | | | | | |
| --- | --- | --- | --- | --- | --- | --- |
| | | | | | | |
| Sale | Broker | Producer | Type | Micron | Price | |
| 32 | CMW | AJ MCKAY | ML165 | 17.4 | 14150 | |
| 18 | BKB | GELDIAAN TRUST | MF160 | 18.6 | 14100 | |
| 20 | BKB | J WHIPP | ML170 | 16.3 | 13820 | |
| 25 | BKB | CP NEETHLING | ML270 | 17.5 | 13710 | |
| | | | | | | |
Share